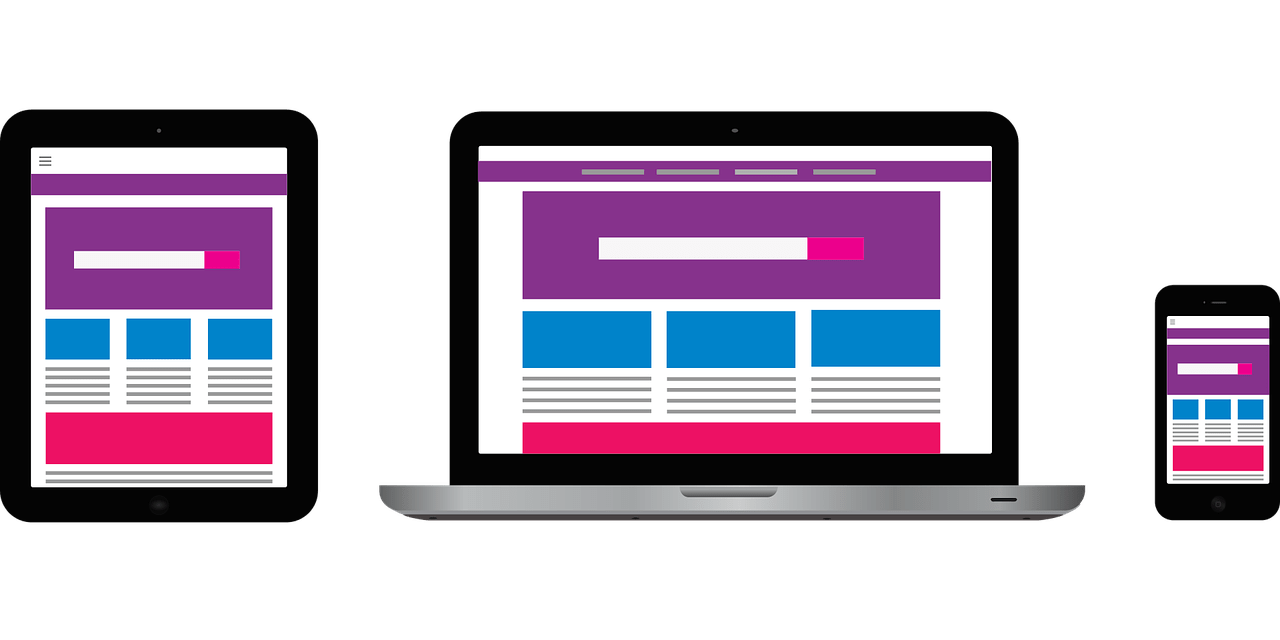 How to Structure a Startup Website
It's important to create and structure a startup website so visitors from your target market get the most value and find what they're looking for.
Meanwhile, you want to have the best chance of capturing sales leads and converting them into customers.
This comprehensive post will show you all of that and more.
Website building software has become commonplace.
However, if there's one thing that site builders like WordPress, Wix, and SquareSpace don't teach, it's how to create an awesome startup website.
For a startup website to be of high caliber, you need a combination of good UX/UI design, good copy (the way your content is worded) and great content, and lead generation opportunities for you.
This combination of requirements makes it tricky when trying to create a website because if you don't instantly provide visitors what they expect, they will probably immediately leave your site.
This would result in potentially alienating a potential customer.  Moreover, it counts as a bounce in your analytics. And ideally, you want your bounce rate to be as low as possible.
You want visitors to be interested in your product or service enough to browse and interact with your site and subscribe to your email list – right?
That's why this in-depth post:
Provides you with great information about your website's goals as a startup
Helps you understand design and development needs
Gives you a template for a startup website
Shows you examples of great elements of a website
Gives you guidance on how to word each section so you can have an effective website for your business
The Goal of Your Website
The goal for your site should be to inform your visitors as much about your product or service as possible and minimize barriers to entry.
Meaning, make it easy for visitors to learn about your startup, show how it helps them, and make it seamless and easy for them to sign up and/or buy.
People these days are all about instant gratification.
You want to gain and maintain their interest. Part of being able to do this is minimizing the amount of text for your visitor to read on your home page.
What's more, to gratify your visitors, you'll want to provide value to them as quickly as possible.
And this is done by providing content that's relevant and useful to them.
Barriers to Entry
What you don't want to do is make visitors wait to learn about your product or service.
This especially includes making them fill out a form to learn about your pricing.
For instance, making people schedule demos to learn more about your product/service increases the barrier to entry and will often prevent visitors from signing up for the demo.
And, it may very well make people leave your website without returning.
This is because scheduling a demo means people committing their time to something they may have no immediate interest in buying.
Moreover, a lot of those forms require you to put in additional information, such as a phone number, company size, and the name and title of the person filling out the form.
Some of the thought behind scheduling demos is that it might "weed out" people who aren't really interested and only those who are will fill out the form. But that's not entirely true, because there's likely a competitor out there who doesn't require all such an upfront commitment and the visitor will wind up going to them.
If someone does fill it out, they may just want to know how it works and aren't ready to purchase. Additionally, they could even be a no show for the appointment you make by accident or on purpose. Then, that person gets hounded by phone and email to talk with a representative.
Alternatively, they could lose interest after the demo. And once again, they get hounded by representatives.
Scheduling demos to see how your software or product works just wreaks of desperation for leads. There are so many better ways to get leads and you can have your own qualifying process to determine where they are in their customer journey and your sales funnel.
Really – don't be like that.
Reducing Barriers to Entry
Instead of the above, there are a number of things you can do to reduce barriers to entry.
Post a video about your startup or explain it with text and images.
You could have a free trial with no credit card required. And while doing so, minimize the amount of form fields visitors need to fill out. (This is one of the easiest ways to get leads)
Additionally, you can get leads with lead magnets that incentivize visitors to sign up for your email list to get some content of value to them. (This is one of the easiest ways to get leads)
Startup Website Design and Development
When you're developing your website, design your front page with hyperlinked page jumps from each section (or widget) to go to their respective labels on your menu.
You also want to design your site in a way that it's visually appealing.
Using nice graphics and/or quality images is so important.
Rather, it's necessary to use images with your text-based content because it greatly enhances your ability to keep your website's visitors engaged.
Why? Because your first impression is paramount to your target customer.
What's more, your startup website needs to have a great UX/UI (user experience/user interface). It's crucial towards your startup reaching product-market fit.
Suggested Reading: Hundreds of examples of one page web designs for new startups by ONE PAGE LOVE
The suggested reading above highlights literally hundreds of startup website examples and will get your creative juices flowing.
You'll see how much of a role design plays into the experience of the website.
The same goes with smartphone apps, as described in this article about smartphone UX/UI app design.
In addition, don't write huge chunks of text in each section because visitors will be less likely to read it.
Instead, write smaller, bite-sized content that's easily digestible. Space it out between multiple sections.
You'll find that it positively adds to the overall feel of the website when you structure your content this way.
Optimize for Mobile Viewing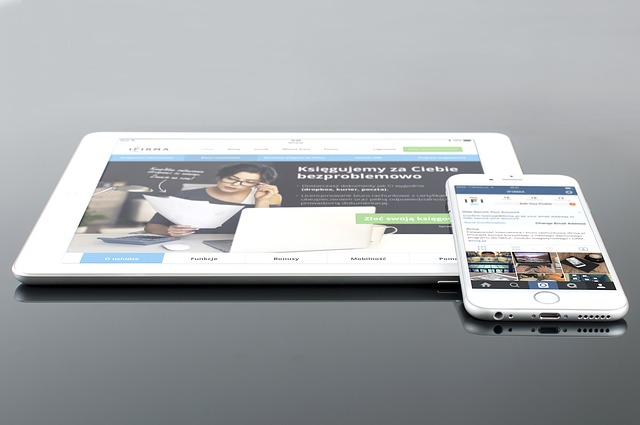 Approximately 50% of web traffic is viewed through a mobile device now. This statistic screams how important it is to make sure your site is optimized for mobile viewing.
In order to make it optimized for mobile use, it has to have a responsive design.
Meaning, the elements on your website will shift based on the screen size and device it's being viewed on.
There are three types of devices used: desktops, tablets, and smartphones.
With most WordPress themes, you'll see an option to view how your site will look using the three types of devices through your customize section.
A site that's not responsive is static, which means its elements don't shift at all based on the device used.
You've probably seen this type of site on your mobile device before, where you have to zoom in and scroll around just to read it.  Static sites are quite behind the curve.
So make sure your startup website is responsive and optimized for viewing on all devices!
In addition, one thing that may help you, especially if you're using a WordPress website, is optimizing for mobile viewing via the Accelerated Mobile Pages plugin. Essentially, it makes your website faster for your mobile visitors. Moreover, this can lower your mobile bounce rate because of the decrease in loading time.
Template of Front Page Architecture
This is a template of front page architecture in what to include in order of how a visitor should see it.
1. Tagline
Your tagline should be strongly, broadly, and shortly worded which shows the benefits your target users will get.
2. Description
Create a description that's a bit more in-depth than your tagline that shows how you're solving a problem for your target market.
A video between 30 – 60 seconds can take place of a description.
Videos are much more engaging than text and are more likely to be played than not played.
If you can fit in enough copy to speak about how it works, then that's even better! If not, save that for a few sections later.
3. Call to action
Create a call to action with an incentive that encourages them to either sign up:
To your email list in return for a great piece of content that will be helpful for them.
By joining your platform for free perks they couldn't otherwise get.
To your platform to get a free trial, which could be physical goods or digital goods.
Any one of these options will suffice, but the second and third options are better because it's a more direct path to those visitors signing up to buy your product or service.
Let's look at Poptin, a SaaS company that helps you convert visitors into leads and customers through many different types of popups and software to help you get better conversions.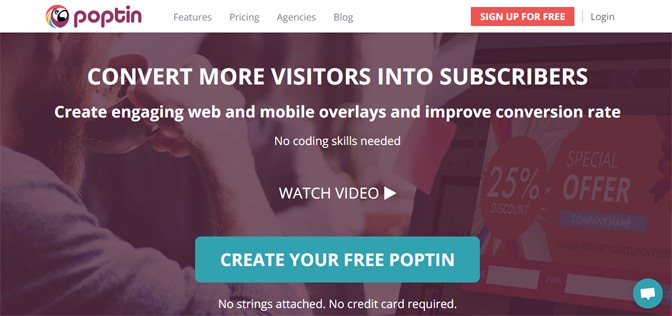 You can see by the above picture that they have a commanding headline/tagline, a descriptive sub-headline/description, an option to watch a video, a call to action, and even text to make your decision to try their software even easier by reducing credit card barriers.
4. How it Works
When creating this section, include clean and vivid graphic art or real life images paired with text that clearly explains how your product or service works.
Feel free to use multiple widgets to get your message across, but three widgets is usually the max you would want to have, catering to short attention spans and easy readability.
The famous phrase, "less is more" comes to mind. Meaning, less text can mean more authority. You shouldn't be trying to shove your product down people's throats.
If they're there because they're interested, then the product/service features should do a lot of the talking.
However, at the same time, you should consider how your product/service is different than the competition. You can word it in a way highlights what you can do better.
5. Testimonials (For Social Proof)
You should ideally be posting three testimonials with a picture of the individuals giving them and a link to their company or organization from which they belong. Having testimonials provides social proof that what you're offering, works.
Again, below is a perfect example of testimonials from Poptin.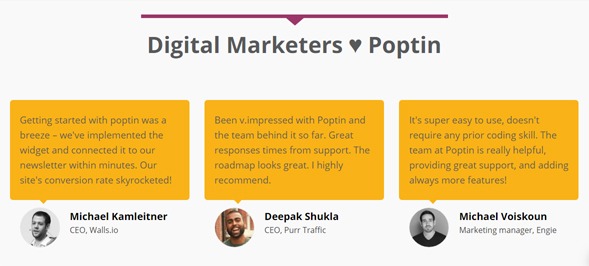 Suggested reading: 5 Best Practices for Testimonials that Lead to Increased Conversions by TechWyse
You may include testimonials in your main navigation with an HTML jump link to the section on your front page, but you don't have to. However, do realize that when you include it in your nav bar, it's more easily visible and thus more likely to be clicked.
6. Partners or Clients, if any (Further Displaying Social Proof)
Social proof is a powerful thing and this section continues to add to it. Big clients that are well known could be added to this section. Look at this example below of CrazyEgg.
Having partners displays social proof as well. It shows that other organizations trust you and your brand. They wouldn't really be okay with you adding their logo on to your website, otherwise.
7. Press
When you have a press section on your homepage with three or more mentions, testimonials, and partners, you will be oozing with social proof. This is a pretty simple section, too.
All you have to do is have the headline of this section as: "As Featured In" and then include the logos of the press outlets that covered your startup.
Some companies link to the articles from the logos themselves and some do not. It's a matter of personal preference.
This startup named botkeeper, which is one of our partners, has a press section that does something similar.
Check out the screenshot of their press section below.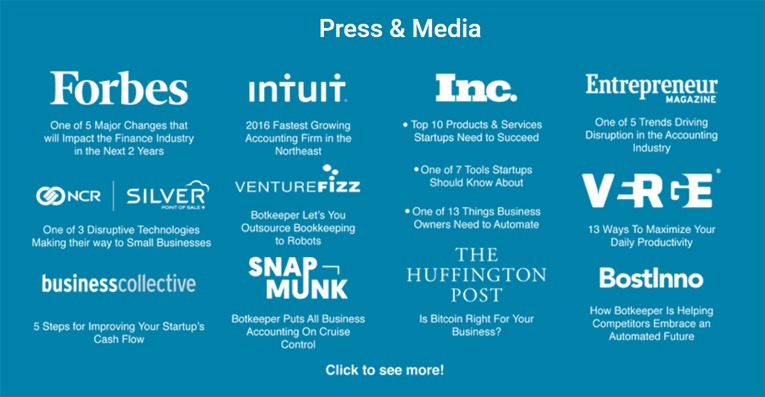 Additional Pages Linked to the Top Menu
1. Home
Have a link on your menu for your home page. It's basic but necessary.
2. About Us
An about is page is a great way to tell your story in a human way and show how your brand connects with your customers.
Suggested Reading: 10 About Us Page Examples That Are Probably Better Than Yours by HubSpot
3. Features
Have a features page that goes in depth about what your offerings are. While laying out your features, add multiple calls to action for them to buy, sending them to your pricing or checkout page.
4. Pricing
Highlight your top plan or product and include variations between monthly and yearly plans if you offer a service. You may want to include comparisons vs competition in your pricing page too.
5. Frequently Asked Questions (FAQ)
Write a FAQ page. It's a great opportunity to answer any questions people have had about your offering.
You can write questions that you anticipate people asking, as well. To do this, you try putting yourself in a visitor's shoes and think up questions. You can also have some friends review your site and critique it to find holes and provide questions.
What's more, you can use the FAQ as an opportunity to answer any objections to using your product or service that someone might think of and say.
6. Blog
Having a blog is both a great thing to have and also a great responsibility.
It's great because you can provide content that your target audience will love.
However, it's a big responsibility because you have to write great posts to keep readers engaged on your post. Writing a high quality blog post also takes a lot of time, which includes doing keyword research before you even start writing.
Moreover, it's a big responsibility because it's up to you to market each post so it gets the attention it deserves.
If it's written and optimized for SEO properly, it can potentially drive a lot of traffic to your website from search engines and social shares.
What's more, if you do have a blog, make sure that you have some social media sharing software enabled on your website so people can share your site and the posts they read.
7. Subscribe
Include a subscribe page so people can always find where to sign up to your email list if they're interested. Email remains the highest converting marketing channel. Using a lead magnet as an incentive within the subscribe page will increase your odds a signup too.
8. Login/Signup
Login and signup sections should be created and accessible on the top left or top right if you have a platform. A vast majority of them are on the top right hand side.
Some sites have this section as a static part of their website that isn't part of the menu. You can do that if you like, but it's possible that it might get less visibility when used on mobile devices due to the responsive build of the website.
Footer Menu
Put a menu in the footer of your site to optimize navigation to other pages and the pages linked to the top menu. It's annoying to scroll all the way back up just to go back to the top menu.
This is where you include pages on the lower menu that you wouldn't normally include on the top menu.
1. Customer Service
Make sure you have a customer service page to assist your existing or potential customers. It goes a long way.  Many people also have this page labeled as "Support." This is personal preference.
2. Press
Include a press page for press inquiries. It's advisable to include a press kit with high resolution images of founders and logos. This is important for members of the press that want to cover your startup. And it's especially important if you have ad space that you sell.
In addition, you might want to include what publications or media shows you were featured in which were listed on your home page.
3. Contact Us
This page is important to have. This is an avenue for potential customers to contact you if they have more questions. It can also lead to exciting business partnerships. Yes, you will get people pitching their services for you, but any business will get that. Make sure you add captcha verification on your form to prevent bots from spamming you.
4. Team
Include a team page to add a human connection and build trust (if you include a summary with each member's experience) to your brand/product/service. It's not necessary but it can be helpful.
5. Social Media
Social media profile links should be clear, ideally colorful, and visible in the footer of your website. Contrary to these being in the "footer menu" section, they will not be part of the menu, but rather a part of the footer section. Remember that the links should always open in new tabs.
Sidebars
Sidebars are good in certain circumstances and there are many uses for them, depending on what page they're located on.
They can be used to incentivize signups through different additional lead magnets.
You can use them to put a quick signup form on there.
You can promote your social media accounts on them through the use of social media widgets.
The sidebar could have additional calls to action.
Your sidebar could feature additional menus or even other relevant widgets to your product/service.
However, most startup websites do not feature a sidebar as it takes away from the flow of the design and distracts the visitor from the sections you want them to browse through.
Additional Services to Use
Conversion Optimization Software
Poptin (Best value) – Poptin has a fantastic free version that gives you an incredible amount of popup variations and conversion rate optimization tools to help you get leads. Their next plan starts at $19/mo and you can save 20% if you buy yearly. Their pricing model is based on the amount of views your site gets monthly.  They have a boatload of features and highly suggest checking them out.
Sumo – Sumo has great conversion optimization software and tons of bells and whistles to go with it. It has a good free version that's not limited by traffic, but rather limited by features and the amount of subscribers you have (500). They have quite a lot more features as you buy the larger plans and no paid plan has any limits on subscribers or traffic.
You can mix and match between Sumo and Poptin's free features to give yourself quite a nice suite of features if you're a bootstrapped startup.
OptinMonster – OptinMonster is conversion optimization software that, like the above services, has many variations of popups and customization features for them. They have no free plan, however they have a 14-day money back guarantee.
Live Chat
Tawk.to – Tawk.to is a free messaging app that lets you monitor and chat with visitors on your website, mobile app or from a free customizable page.
Drift – Drift's free personal version allows you to chat with prospects, giving you the flexibility to talk with them from a dedicated support thread on your Slack channel. You can also schedule meetings and send sales email sequences with its free version.
Analytics & Feedback
Google Analytics – Awesome free analytics for your website. Through Google Analytics, there are a litany of different ways to uncover data about your visitors' behavior, demographics of visitors on your website, as well as see what parts of your website are performing better or worse than others.
Their free version is quite vast. Everyone should have Google Analytics installed – it's a no-brainer. It's not something that visitors can see, but it's essential for any business.
HotJar – HotJar is something your visitors can see, however. It's a heatmapping and feedback tool.  The feedback tool is what visitors can see. The analytics tool is the heatmapping to see where visitors click on your site the most. You can run feedback polls, surveys, and get instant feedback from users about many different parts of your site.
Additionally, you can recruit user testers, get form analysis, recordings of user journeys through your site, and track their journey through your conversion funnel. They have a free plan with limited reports, unlimited users, data storage for 3 months, and up to 2,000 pageviews a day.  Their next plan starts at $29/month.
Conclusion
When you're building a website, you want to do everything in your power to make the user experience and user interface as good and seamless as possible. Meanwhile, you also want it to work for you so that you have the best opportunity to get leads and sales.
That's why it's important to have a combination of good design, great wording, and helpful tools that will make your startup website awesome.
Do you have anything to add which you've seen to be important for a startup website to have?