StartupDevKit Membership Plans
We Currently Offer:
A 14-day free-trial

Professional (Pro) plan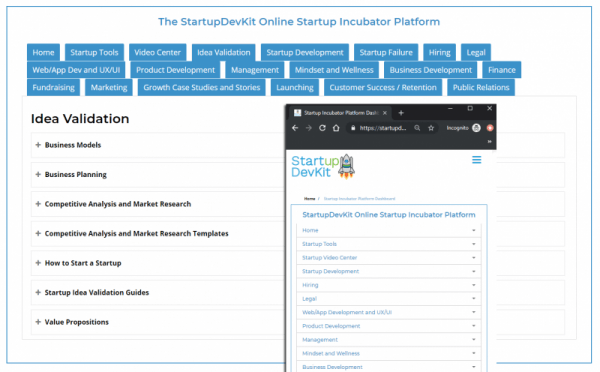 Discover hundreds of essential resources for startups all in one place.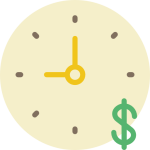 Time saved is money saved. Spend less time looking for authoritative content to help you grow and spend more time working on what matters.
Notable Platform Resources
Startup Development
Tons of idea validation, startup development, startup failure, and product development resources to help you validate, build, and grow your startup successfully.
Legal document templates to make creating contracts easier (not a substitute for legal advice/services).
An easy-to-access list of hundreds of over 500 startup tools that are organized by category in a Google spreadsheet.
Management resources to help you run your company.
Hiring and recruiting resources to help you grow your team.
Product development resources to help you build your prototype or full version
Fundraising
A list of over 200 angel investors to source pre-seed and seed capital from AngelList.
Our seed or pre-seed VC firms lists to find investors easier by only seeing firms who actively invest in the designated funding round (we cross referenced them). Find by location, geographic focus, industry focus, and stage. No more contacting VC firms that are inactive in particular funding rounds!
Pitch deck templates from highly-regarded VC firms.
Fundraising materials to help new founders learn how to fundraise properly
Marketing and Growth
21 sections of 100+ marketing resources to help you achieve awesome growth.
Original & curated go-to-market strategies, pre-launch and launch strategies, so you don't have to re-invent the wheel.
80+ marketing templates to simplify and organize your processes.
A conversion rate optimization guide for lead generation, nurturing, and customer development.
15 growth case-studies and stories and 13 resources on how to craft great pre-launch campaigns
25+ resources on email marketing so you can maximize your leads and sales
Press Coverage and Business Development
An awesome guide on how to get press, even if you have none.
3,300 press contacts with contact info in just about every industry, mainly for startups.
A 20,000 contact/person media list of newspapers, TV channels, magazines, and radio stations with contact info.
6,000 U.S. startup CEOs list with emails and LinkedIn profile URLs for business development.
33,000 small, medium, and large U.S. companies list to seek potential business opportunities with them.
How We Differ From Other Online Incubators
We do not take equity for any incubator memberships, saving you equity.
One account can be used by multiple people, even simultaneously, saving you money.
Learn, build, and grow on your own time (especially side-hustling founders) rather than adhering to strict accelerator schedules. Instead, you can follow our accelerator program and start from whichever stage you're at in your startup life cycle. (coming soon)
Testimonials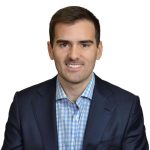 "StartupDevKit has been indispensable for my startup with the wealth of different resources, the mentoring, and feedback I've received from its Founder, Carl Potak. Since working with him, we have raised a full seed round in funding for our blockchain startup. I would implore any startup founder to tap into his knowledge, the vast startup resources this platform has to offer, and will continue to bring." – Thomas McLaughlin, Jr. Co-Founder and CEO, Blockstake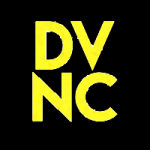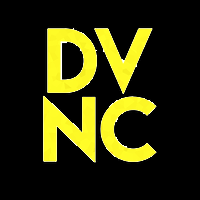 "As a virtual reality gaming and content studio that started in mid-2018, it was hard finding people who believed in us and our vision. Carl told us upfront he wasn't overly familiar with the VR industry, but said he could still provide us with meaningful support and expert startup knowledge.
We're happy to say he was right and we have definitely enjoyed working with Carl. Not only has he given us great advice that has helped us grow, but he's helped to keep the team motivated and focused. StartupDevKit's platform combined with his mentoring has been a game-changer for us and look forward to continuing working with him."  – The Team at DVNC, DVNC Tech, LLC
Satisfaction Guarantee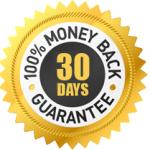 We're confident that most early-stage startups will find value in our product but sometimes it's not a fit for everyone, and we understand that. So, we offer a 30-day money-back guarantee for any paid plan. However, if there is an issue you're experiencing, we'll do our best to correct the problem and make it up to you. But if there's no resolution and if you'd still like a refund, then no problem at all and we'll process your refund. Please contact support @ startupdevkit dot com if you have any issues.
Membership Plans
Try Before You Buy and Check Out Our Free Trial!
No credit card necessary to sign up for the free trial.
StartupDevKit Professional (Pro)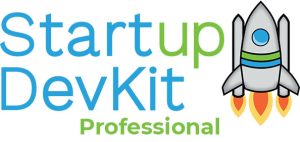 3-month program and platform
guide (combined)

Curated and original resources for startups
Weekly Mentoring
(Premium Only)
Support via email & Slack
Lists of venture capital
firms & angel investors
Access to member-only Slack group
Online community and network of members
Perks & benefits
from partners

Desktop, tablet, and
mobile compatible
$588 $399
Billed annually
Save $189 (32% off)*
$30.75/mo
StartupDevKit Pro
6 MONTHS
$219

Billed every 6 months
Save $75 (25% off)*
$33.16/mo
StartupDevKit Pro
3 MONTHS
$119
Billed every 3 months
Save $28 (19% off)*
$39.66/mo
$49
Billed every month
$49 a month
StartupDevKit Pro
14-DAY FREE TRIAL
FREE
No credit card
is required
* Plan savings is based on the monthly value
Still have questions? Check out our FAQ Page.