Founder mental health is a big issue in the startup ecosystem, where 72% of founders report an impact on their mental health. We are going to talk about how founder mental health gets impacted and how you can improve yours. Improving yours will make you feel better and perform better. And you'll be able to lead your team better. However, improvements don't occur overnight, so it's important to set the expectation that it can take some time.
This article by TechCrunch talks about the need for investors and entrepreneurs to address the mental health crisis in startups and they couldn't be more right.
What Do Most Founders Experience?
The TechCrunch article shares that founders are:
2X more likely to suffer from depression
6X more likely to suffer from ADHD
3X more likely to suffer from substance abuse
10X more likely to suffer from bi-polar disorder
2X more likely to have psychiatric hospitalization
2X more likely to have suicidal thoughts
Founders who are emotionally healthy are more likely to make better decisions rather than the opposite, where the inverse occurs. Every founder will have multiple personal goals, and improving their mental health should be one of them. It would be wise to continually improve, for the sake of themselves, their romantic partners, their business partners, and organization as a whole.
If you as a founder want to lead your company to great heights, do you think people will follow you if your behavior doesn't exude confidence and positivity?
To put it plainly, you want to have your shit together.
But some people start startups for the wrong reasons. They think it'll fill a hole in themselves. It doesn't.
And based on my research, mental health affects so many of the decision-making processes that will determine whether or not your startup succeeds or fails – being that 90% of them do fail, a lot of it stems from lapses in judgement, communication, and decision-making. These are all mental health-related.
8% of founders reported failing, in part, due to burnout from CB Insights' first study on why startups fail and now in their second study, that number has dropped to 5%. But that doesn't mental health in founders isn't still an issue.
The following stats show that founders are suffering from one or more of the following (also displayed in the image below).
High stress, 44%
Anxiety, 37%
Burnout, 36%
Depression, 13%
Panic attacks, 10%
The data doesn't add up to 100% because participants were able to select multiple answers for what they experience.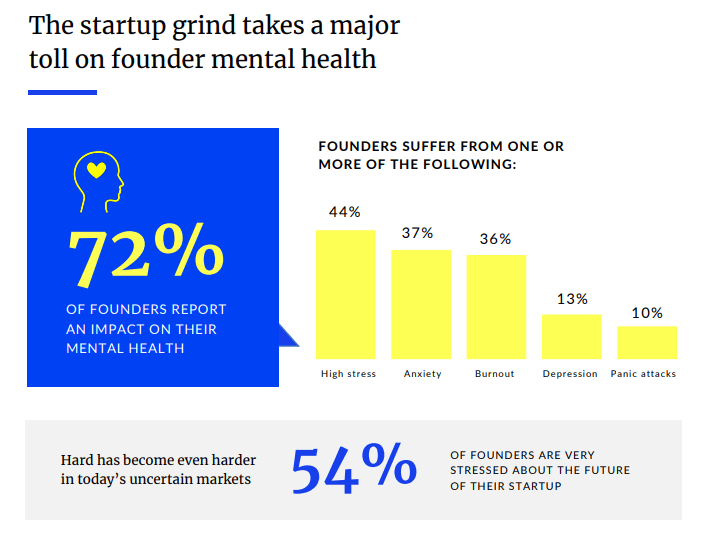 High stress, if left unmitigated, can lead to anxiety, burnout, panic attacks, and even depression if a founder or startup gets too stuck.
A combination of these issues makes things even more complex and is cause for intervention.
Common things founders deal with:
Juggling roles themselves (wearing many hats)
Keeping your team together and functioning well
Growth
Product development
Operations
Cash flow
Financial stress and uncertainty
Hiring new people
Fundraising
Investors and board meetings
Networking
Planning
And SO much more, right??
And that's just work-related!
Most startups have cash-flow problems and financial stress can be very difficult on founders and on their spouses or partners, or families too.
In turn, if you don't have support and understanding from them, it exacerbates stress and anxiety.
Then it makes you more likely to get burnt out and become depressed on top of being stressed and anxious.
And the viscous cycle continues until it ruins the relationship or yourself.
Or until you take the action to fix the root causes of your issues.
Getting Started on Becoming Your Best Self
Introspection
If you want to be your best self, then take stock of your difficulties and why you are having them so you can consciously work on them.
Don't let the stigma interfere with achieving happiness in your life. It's okay to admit to yourself and others that you have a problem. We all have something.
So take a few moments to do introspection and what the underlying reasons why you might be experiencing emotional blockages or issues.
Emotional Intelligence
You can take this a step further by learning about ways to become more emotionally intelligent.
Becoming more emotionally intelligent will make it easier for you to process and express your thoughts and feelings.
The best startup leaders (and leaders in general) are the ones who are emotionally intelligent.
It's a skill like any other. So the more you practice it, the better you'll get at it.
The five components of emotional intelligence
1. Social skills: being able to create and maintain healthy relationships
2. Self-awareness: the knowledge of one's own thoughts, feelings, and motivations
3. Self-regulation: the ability to regulate emotions and actions in a variety of environments
4. Empathy: the capacity to emphasize and appreciate another perspective.
5. Decision-making: the ability to make responsible choices and accept their outcome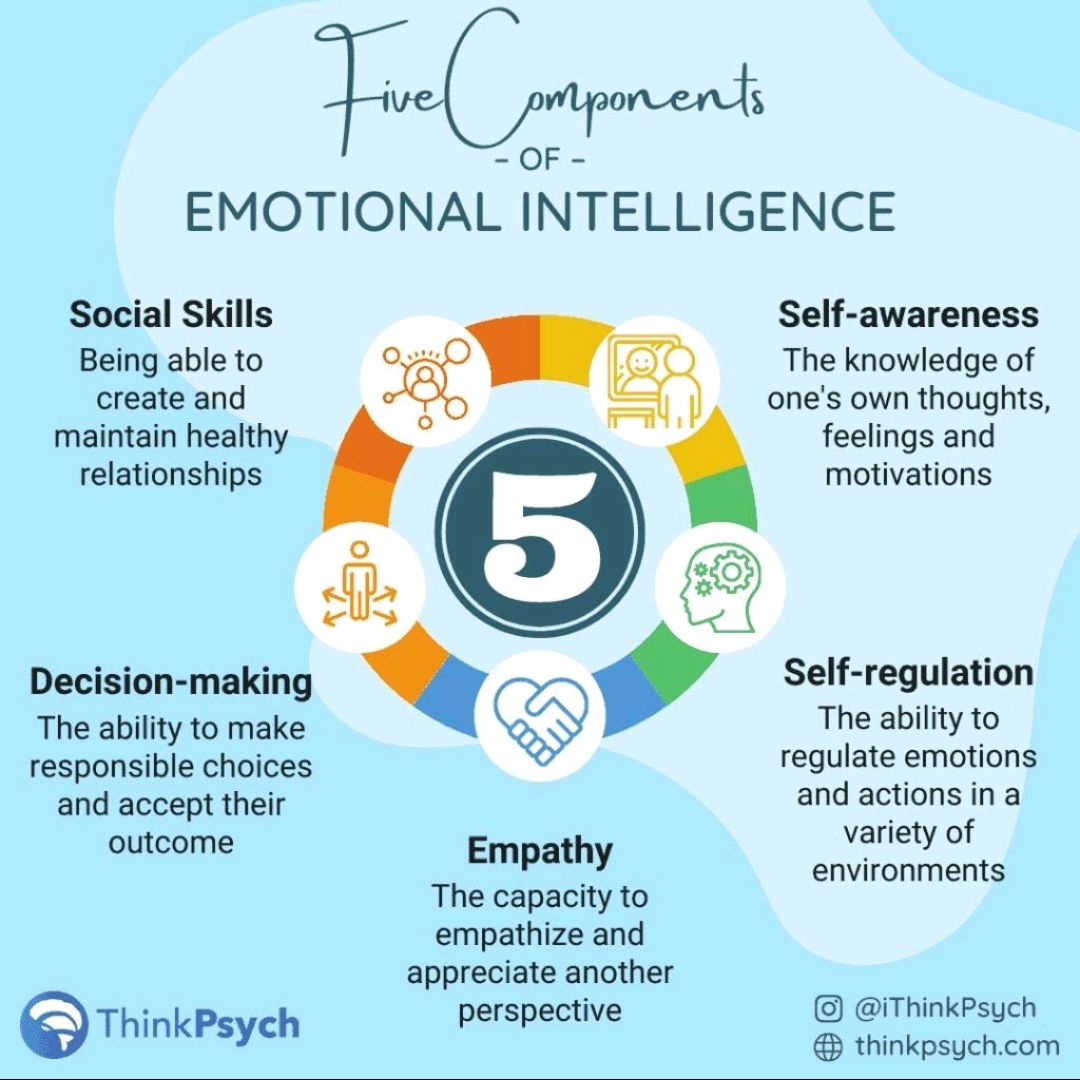 Resources to help you become more emotionally intelligent:​
Each of the resources will provide additional insights that the other articles listed don't necessarily share. Thus, I do suggest reading them all. They're enlightening, especially for those who haven't studied this before.
Reduce anxiety, stress, and overwhelming feelings with these coping strategies to improve your mental health:
Practicing mindfulness
Daily strength training and/or cardio workouts
Nature walks or hikes
Tackling the projects that cause you the most stress and anxiety
Delegating and/or outsourcing more tasks
Better planning (time boxing with breaks, at the very least) to enhance productivity
Reading
Creating a more balanced work-life schedule
Hygiene
Yoga
Writing and reciting positive affirmations
Do journaling
Write down what and who you're grateful for, then read and recite them everyday
Reading encouraging books or other similar content
Listening to podcasts that reinforce positive mindsets and behaviors
Chanting Nam Myoho Renge Kyo (a SGI Buddhist chant) with positive goals in mind
Seeing a therapist and/or psychiatrist
Connecting with friends more
Taking up a hobby or practicing an existing hobby to reduce stress
Therapy Has a Positive Impact on Founder Mental Health
In startups, men outnumber women 4:1 and men are much less likely to go to therapy than women. Most of us dudes think there's a stigma attached to it. I don't, but most people don't think like me.
Therapy is a healthy way to get an unbiased opinion on things and an even better way to get past mental issues founders face. Going to therapy doesn't mean you're crazy. It means you're human.
Mentors who are experienced, and whom are emotionally intelligent, can play a similar role to therapists too — if they're comfortable with that type of role. You've got to ask them if that's something they'll do with you.
Sometimes people who have entrepreneurial experience can more easily understand the types of issues that you face and may be able to provide better advice on the business-side.
But they aren't licensed. So if your issues are purely startup-based, then they may be able to help you.
Otherwise, if your issues are not purely startup-based, then seeking a licensed therapist would be a better way to work things out.
As the old moniker goes: you can lead a horse to water, but you can't make it drink.
A person has to be willing to open up and want to get better.
Make a positive change in your life or suggest the same for another person you know who's struggling.
Here are three good options for online therapy:
Similarly, there are helpful YouTube channels by great psychologists like Yvette Erasmus, PhD, who specialize in transformative education for human healing and growth.
Getting in-person therapy for improving founder mental health
The best way to find a licensed therapist for in-person visits is to go to your health care insurance website and look for psychologists and/or psychiatrists who accept your insurance and are nearby.
Then, look them up on Google to find their ratings so you can see what other people say about them.
Once you find a couple you're interested in, reach out to them, and double check that they're still seeing new patients and that they accept your insurance.
Then make an appointment and come prepared with what you'd like to work on and reasons why you think you experience those difficulties.
Conclusion
If you don't have your health, then your startup will go into a tailspin. That's why taking care of your health is of the utmost priority. The mental affects the physical and vice versa.
The alternatives we provided aren't a substitute for a licensed therapist, so if you feel the need to speak to someone about your mental health, then we suggest seeing a licensed therapist.
However, the suggestions provided are a great way to get started on improving your mental health so you can become a better person and better founder.