When you're starting a business and even more so a startup, you're going to need to write up some type of plan of how you're going to go about your business. Traditionally, business plans have been what people created, and they're still important to have, but if you want a quick snapshot of your company, then a business model canvas or an executive summary is the way to go.
What the business-savvy startups have turned to now are lean business model canvases and executive summaries.
They have each have pros and cons – an executive summary is more detailed and a canvas is more of a snapshot. For several years, there have been two types of canvases and the executive summary as the go-to snapshots for a startup company.
However, there's a new canvas in town, and it's created by us, called the Tech Startup Canvas. Below I discuss the differences between these options and what it means for you.
The Tech Startup Canvas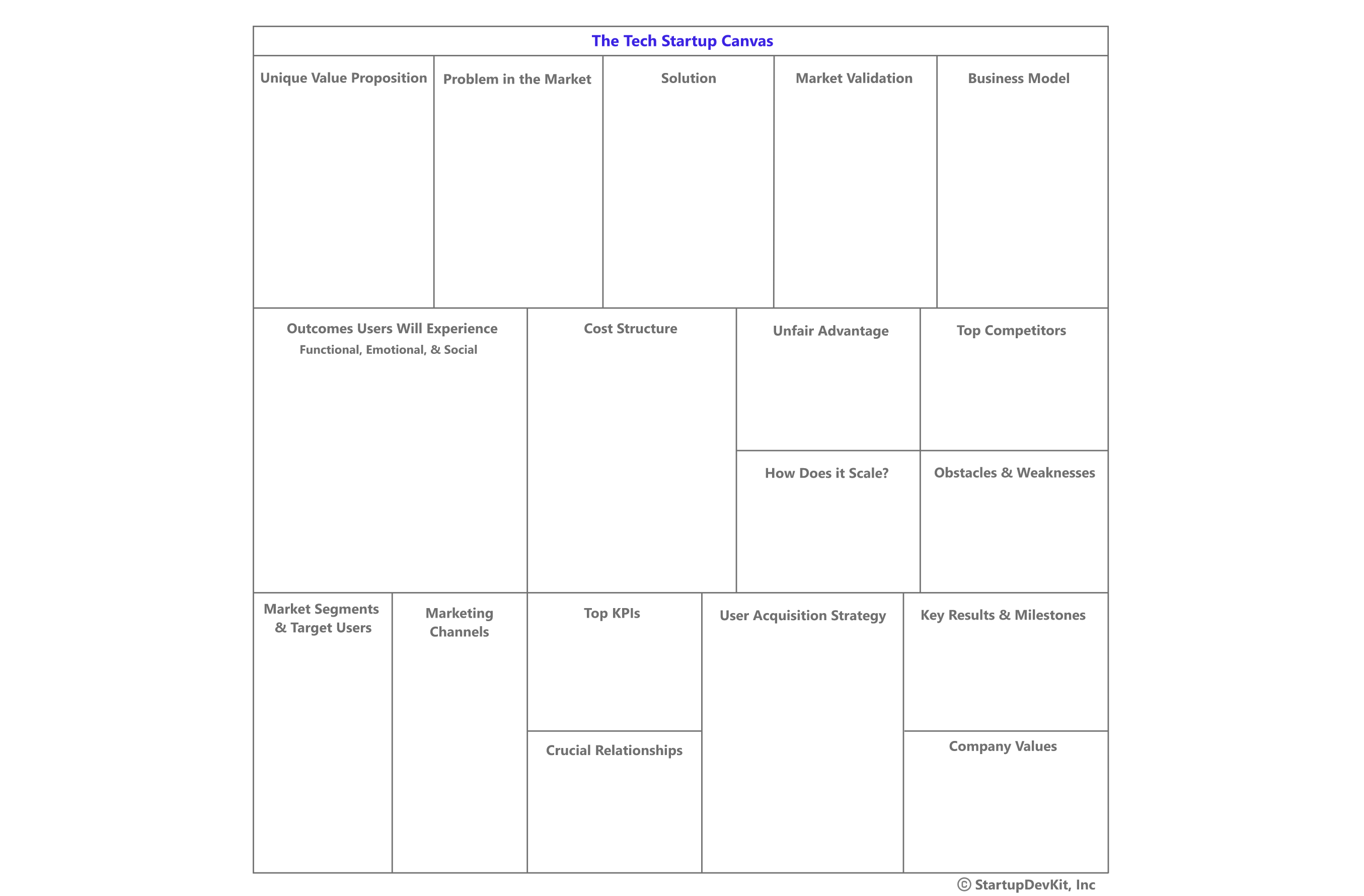 I created this canvas because it outlines some of the more important aspects for a tech startup, while maintaining the qualities of the lean business model canvas. This canvas has eighteen sections.
The tech startup canvas allows you to more easily share pertinent info about your company with new hires, teammates, or freelancers so they can get a bit of extra detail that will help them do their job better.
Do you want a more informed team or less informed team? The answer should be clear.
You will see the additional sections below and learn about why I'm including them in the new canvas.
Differences Between the Tech Startup Canvas and Lean Business Model Canvas
Market Validation

– It's important to be reminded of the need to make sure that the problem and solution are both validated. When companies are testing a potential pivot, their business model, problem, and solution will usually change. Therefore, the market validation section needs to be updated when that happens.

Business Model

– This will show your business model and include your revenue streams, which the lean canvas shows.

User Outcomes

– Functional, emotional, and social outcomes are very important pieces of the puzzle when it comes to marketing and selling your solution. User outcomes should always be kept in mind with all aspects of visual, experiential, and informational design.

Top Competitors

– Regardless of whether you find new competitors or have existing ones, it's important for you to be able to keep track of them and what they're doing. This allows you to distinguish what your unique or unfair advantage is to both your audience and team.

How Does it Scale?

– You're working on the right things when you're working towards a scalable outcome. If not, then you've got to find another approach.

Obstacles and Weaknesses

– Knowing your strengths is great and knowing your obstacles and weaknesses is even better. Your obstacles can serve as an impetus to overcome them, just like shoring up your startup's weaknesses.

Crucial Relationships

– Relationships are critical to growing your starutp. Seeing who your partners are or who your key relationships are with, helps you by reminding you of the importance of them.

User Acquisition Strategy

– The whole team needs to know how your company is growing and what your acquisition focuses are. Obviously, you can't go into lots of details here, but it's still pertinent.

Key Results and Milestones

– A great way to keep the company on the same page is with your goals and milestones. You update the sheet when milestones are reached. Then send it to your teammates and investors so you can keep them apprised of your progress.

Company Values

– Customers, employees, and candidates like socially conscious companies. Communicating your values externally and internally is a powerful tool in both customer and employee retention.
Lean Business Model Canvas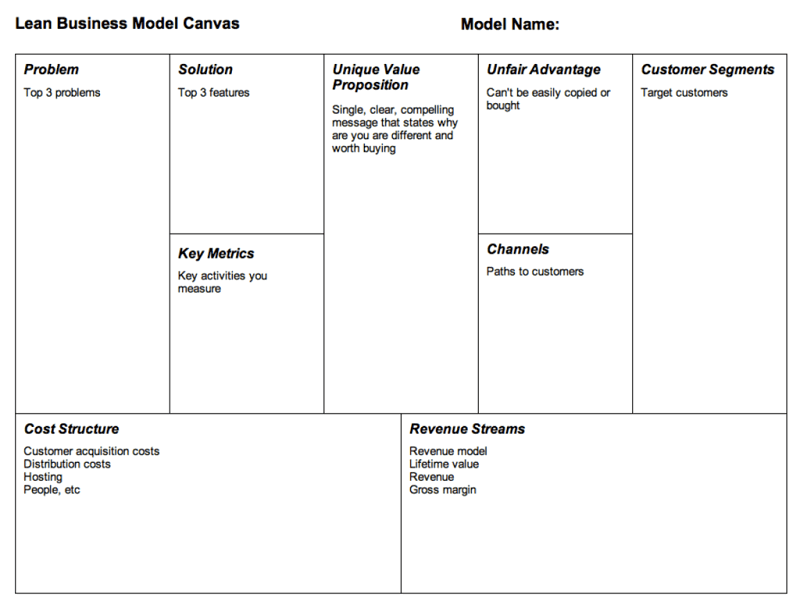 There are eight sections here. The great thing about lean business model canvases is that they are super simple and nicely laid out. It's even simpler than the regular business model canvas that's mentioned in the next section.
You have several options to edit or make your lean business model canvas or tech startup canvas:
1) By saving and printing it out and writing on it with a pen or pencil.
2) Typing text over it on an image editor. (easiest)
3) Going to Mural.co and creating a free account.
4) Going to leanstack.com and signing up for a free account to make yours.
The only downside of the last two is that every time you want to edit it, you have to go back and log in — but that's not so bad. So if you want to do that, then I suggest you bookmark that site into your toolbar so you can get back to it easily.
You can't get much leaner and more basic than this template without sacrificing important information about your startup or business.
The final caveat is that canvases aren't what investors ask for. They ask for executive summaries or business plans (which should be on the shorter side) and pitch decks.
Validate Your Startup Idea and Build a Strong Foundation for Your Startup to Grow on
Validate your startup idea through our incubator program and unlock your highest potential.
You will be able to assess and validate/invalidate the:
| | |
| --- | --- |
| | |
| | |
| | |
| | |
| Places your ideal users gather | |
42% of startups fail because they make products that the market doesn't want.
Don't become one of them. Start our incubator program with a 14-day free trial so you can make sure you're building something
truly great
.
Business Model Canvas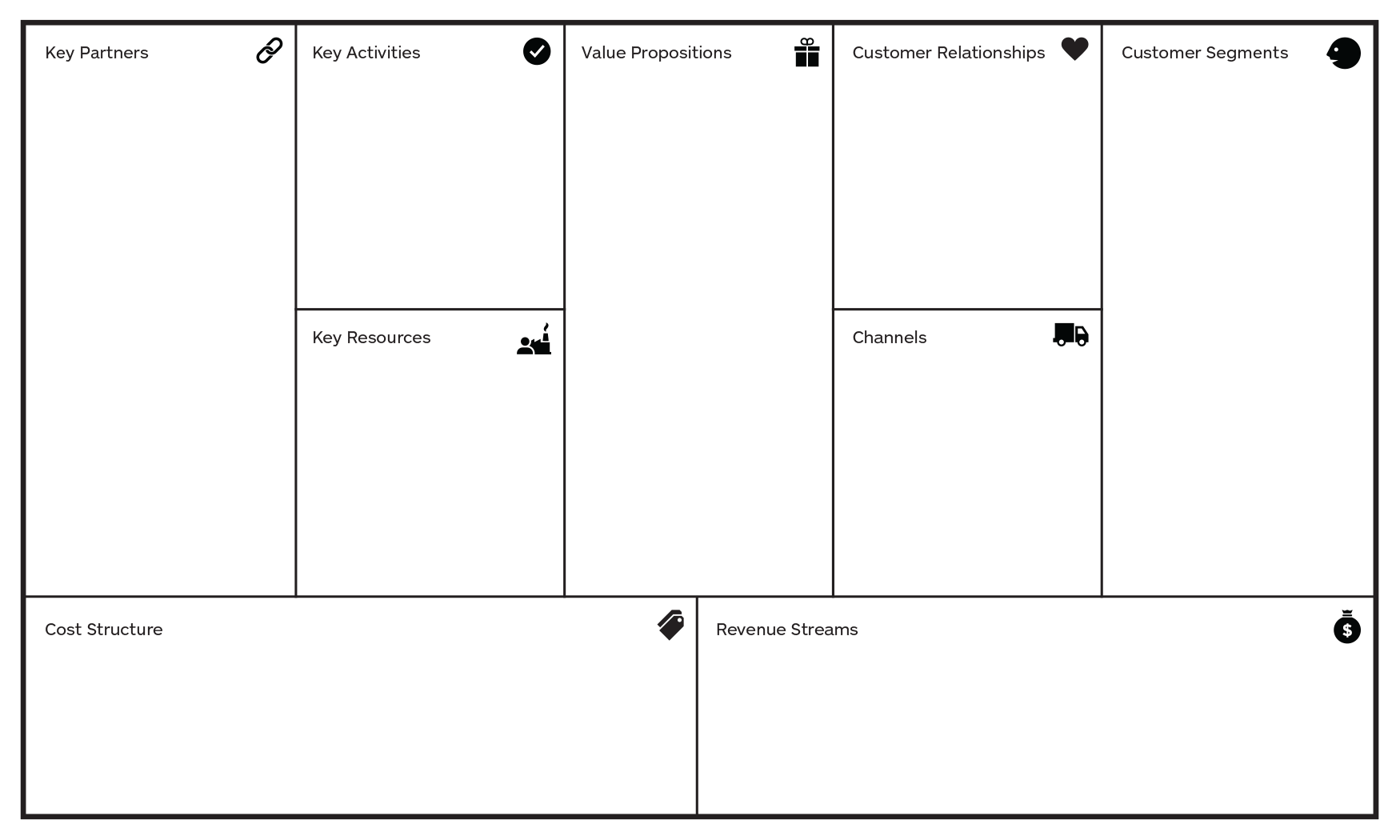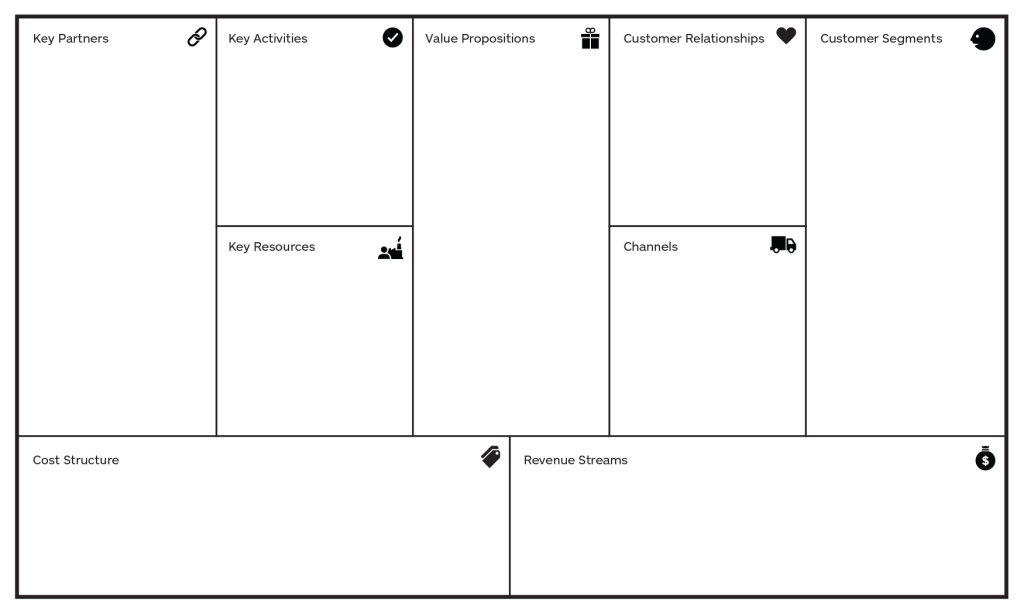 The business model canvas has one more category, but they're not all the same as the lean canvas. In fact, there are several differences.
However, that's not necessarily a bad thing. They're just different and used for different things.
What they have in common:
Cost Structure
Revenue Streams
Customer Segments
Channels
Value Proposition
The differences between the business model canvas and the lean business model canvas are that the business model canvas has categories of key partners, key activities, customer relationships, and key resources.
Whereas the lean business model canvas has categories of problem, solution, key metrics, and unfair advantage.
The lean business model canvas is better suited for startups, as it drives towards necessary ingredients of a successful startup.
And the business model canvas is better for more traditional businesses.
If you want to use this canvas then you will need to print it out or write over it in an image editor.
Executive Summaries
Executive summaries only require a word processor, and there are quite a few of those, from Word to Open Office to Google Docs, etc.
You use the same content as you would with a lean business model canvas, but it's displayed vertically on a page and you can edit it easily.
It also shows management and fundraising sections where the canvases do not.
The other major difference is that you can write more information down in an executive summary. You can't write that much with a canvas.
Conclusion
So what's better? There is no straight answer because they both have their own purposes. For details, executive summaries are better than canvases. For quick snapshots of your startup, the tech startup business model canvas is better.
Figure out what your needs are.
If you have a startup that isn't seeking venture capital or angel investment, then I'd use a lean business model canvas. You can always copy that information down and expand upon it within an executive summary.
However, if you want to seek and raise capital, then you'll need to have an executive summary.
Executive summaries and business plans should not be created as plans that are set in stone and neither should canvases.
Your startup should be able to evolve and pivot if need be and that's why your summary or canvas should be flexible as well.
Use what suits you best for your situation.
If you're looking for guidance on how to best move your startup forward and get tons of resources for early entrepreneurs like you, then you might want to check out StartupDevKit's accelerator membership.
What format do you like more (executive summary or lean business model canvas) and why?