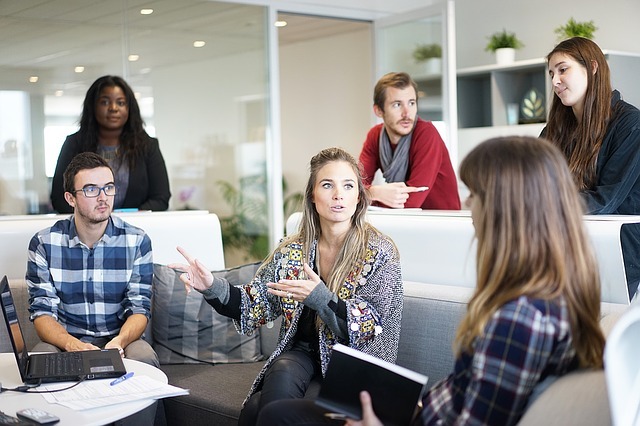 How to Find Co-Founders and What to Look For
You're here because you're wondering, "where do i meet co-founders for my startup?" And with a shift into looking online over in-person due to the coronavirus, it's even more crucial that you know how to find co-founders and what to look for so you can get the process rolling ASAP.
Here's an interesting fact to consider: Did you know that 23% of startup failures are attributed in part to having the wrong team? Co-founder clashes can kill a startup and therefore, a solid team is just as important as the product/service you're creating.
A startup involves juggling tons of different tasks and responsibilities. But you don't want much overlap in skills. This reality makes it even more important that we find capable co-founders who can do what we can't.
Here, you'll learn about six topics:
How to Find Co-Founders
Below, you'll find out where and how to find a co-founder for your startup so that you can start or continue building your rock-star team. Look through all of these options to see where you can find people — plus, we save the best for last!
You can search on LinkedIn to find a co-founder and it's a great place to look because it's the #1 social networking site for business professionals.
But, how can I find co-founders on there? You may ask…
There are three main ways you can
Reach Out to Your Connections
Reach out to your connections and ask if they know of anyone that might be interested in the roles you share with them. Tell them about what your startup does or will do. You miss 100% of the shots you don't take. It's a slow process but you'll never know if you don't reach out and try.
Use the Search Bar
You can also search for a co-founder on LinkedIn by typing in the role you're looking to fill within the search bar.


Here's the process:
Find the dropdown button  on the left criteria pane labeled "People." "All" may be selected by default.
Then sort by location on the next dropdown menu. You can change it by clicking on the area that you most closely identify with or by typing in another location that wasn't pre-filled.
Click on "All Filters" and select the additional options you'd like to filter by and click "Apply"

Now start checking out their profiles, ideally by opening their profiles into new tabs so you can keep your search results in the same place you left them.
In addition, you can save a user's profile to PDF for free by clicking the drop-down arrow next to the buttons to connect and send that person inmail.
Post a Status Update
You can post a status update and mention that you're looking for co-founders and ask for referrals.
When you do, describe what you're looking for in that co-founder and you may want to share your startup in the message.
In addition, you can link your company profile to the job description and if you have a job description on an external website, you can share a link of it in the status update or in the first comment of your post (that can help with news feed visibility). You'll want to set the visibility of that post to public, as well.
Joining LinkedIn Groups
Join groups on LinkedIn that will have the type of co-founders you're looking for.
For example, if you're looking for a marketing co-founder then look for and join groups on marketing. The caveat to LinkedIn groups is that they are not generally active, but they still usually have people in that area of expertise in there..
Once you're approved to join the group, there are two ways you can look for people.
1) The first way you could look for co-founders is to create conversations on the discussion board in the same way that you would create a post to post in your news feed. You're putting yourself out there, so any visibility is helpful.
2) The second way to find a co-founder in a group is to message people within the group. Do this by clicking below the group name where it shows the number of members on the left to access the members section.
When it comes to discovering people in groups, they are a different kind of animal because they don't have the search capabilities within them like the rest of LinkedIn allows.
When looking for people to message, you can search by the term you're looking for, however, it won't show everyone with that keyword in their profile. Instead, it will show individuals who have added that phrase or keyword into their name.
I searched for "growth hacker" and it yielded 10 people out of 1.119 million members. Obviously not many people but you may find someone. Some results are better than none.
One of the best places to find people who are serious about co-founding a startup is CoFoundersLab. They have the pay-to-play business model now, so you have to purchase a membership in order to use it fully. However, they recently re-released a free version with fewer features.
This is where you will find the largest concentration of people who are looking to join startups or are looking for others to join them.
You can also find mentors/advisors and interns there.
Make sure you create a good profile that speaks about yourself and your experience, your startup and its mission, what you're looking for in a co-founder, and what you're looking to offer in return for them becoming a co-founder of your startup.
Just like in dating, never look and act desperate.  People will notice it immediately.
Additional Info: They recently acquired FounderDating and merged all of the profiles from there into CoFoundersLab to have the largest network of founders and potential co-founders on the planet. And even more recently, they were acquired by Business Rockstars.
3) Going to Meetups from Meetup.com
In a similar fashion to that of LinkedIn, you want to target the meetup group based on the skill sets desired.
So, using the marketing example again, look for meetup groups in your area that are for marketers. Request to join those groups. Once you're approved you can then message group members and attend their meetups.
Then, all you need to do is have your startup's elevator pitch together so you can pitch marketers, programmers, or whoever you're looking for when you meet them at these meetup events.
If you find someone that seems interested, set up a meeting with them to talk about it further.
Moreover, you can message people directly if you're in a meetup group. However, people use this functionless less frequently.
4) Joining Facebook Groups
Find Facebook groups that match the discipline of the person you seek. Become active within that group and look for people who are also active. Message those people.
Once you're in the group, post who and what you're looking for, as well as info about your startup. You can ask for referrals, as well.
Another way to go about finding someone via Facebook groups is to join location-specific groups and perform the same actions.
AngelList is a top platform for finding jobs in startups, posting jobs for your startup, investing in startups, and now finding co-founders too. "Talent" is their recruiting app on their website and it's free to use but there is a premium option available as well. There, you can also pay to promote the job role on Angel List.
By going to http://Angel.co, you can then easily create an account to get started.  Then you then would go to https://angel.co/recruiting, click "Get Started Now," and fill out the form fields to post the job.
Once you've completed the process, you can browse through the profiles that match your criteria and start messaging them!
Equity Directory is an invite-only network of entrepreneurs which you can request access to. Once you are approved, suggestions are emailed to you. Pretty simple, right?
However, it lacks specificity with the types of people you want to find. That just makes it a nice fallback option to have on the side that may or may not yield a good result. Therefore, you're not going to want to solely rely on this method.
Founders Nation is similar to websites like CoFoundersLab and Founder2be in that you can find cofounders there too. If you're a jack of all trades or have multiple skill sets, you'll have to pick your top two skills when registering as it only allows 2. It's also prohibitive during registration with its use of text formatting which won't allow you to move forward until you edit it to become what it will accept. I was not able to successfully create a profile because of that issue. Maybe you will have better luck.
They've built our platform and search algorithm to make finding a match as easy as possible. Our intuitive messaging system provides quick and easy communication amongst other co-founders and our filters allow you to easily narrow down the type of co-founder you're after.
9) Contact University Department Offices and Professors for Referrals
This is a great method to find hungry people who want to make an impact quickly. College students are focused on building their skills and careers — especially juniors and seniors. Moreover, there are plenty of graduate students, as well.
You can contact business schools, computer science departments for developers, art and design departments for graphic designers, English departments for editors and any other relevant departments.
You can count on Y-Combinator to put out a quality product as the godfathers of startup accelerators. They created a co-founder matching platform for startups who apply to their free Startup School and who are approved. There are a lot of highly qualified people there who are eager to make an impact and make the next best thing, as well.
Important Points to Understand Before Starting Your Search to Find Co-Founders
There are a few important points to understand before starting your search to find a co-founder.
Your co-founder candidates are interviewing you just as much as you're interviewing them.
The more successful your co-founder prospect is, the more selective they're going to be when choosing what startup to join.
Your pitch needs to be strong and your story about why you're doing your startup needs to be compelling.
Before someone joins your team, most people will want to see some evidence of traction with your startup before they decide to join. The exceptions to this are they're a college student, they're less qualified, or less experienced.
If they're interested and you move to a phone and/or video conversation and don't assume that they have already chosen to work with you. You need to continue to impress them and show confidence in yourself and what you're doing. That confidence will translate over to them so they don't feel uneasy about joining you.
What to Look for in Co-Founders
There has been a lot of talk in Silicon Valley and the startup world about "hiring rockstar teams." Remember that an individual's value-system is just as important as their skills and experience.
I would take a person with tons of passion who's willing to learn and put their all into a job but with slightly fewer skills, over a person with less or no passion and great skills.
The person with more passion will usually find a way to meet expectations. They want to make a difference. The person with no passion will be less likely to want to get things done. In a startup, you need to get things done.
Do They Have the Time?
First of all, make sure that they have the time to work on your project.
If they can't dedicate at least 10 hours a week on top of their normal work schedule, then it's likely that they won't be a good fit. The more time they have, the better. But, that increase in time comes at a cost to themselves, which brings me to my next point.
Money
It's incredibly vital to find out what their financial standing is.  A bad financial standing on anyone's part can deal a huge blow to the startup if they have to leave because of it. Here are some questions to find answers to:
How do they support themselves? Wife/husband? Themselves? Joint-income?
Do they have a part-time or full-time job?
How long can they last on your startup without get paid from it?
Would they work for equity plus profit-sharing?
Location
Ideally, you want your business partner to reside in an area that's somewhat close to you, especially if you're seeking venture capital funding.
This is because you need to have a cohesive group of people who are used to working together, both in person and remotely.  An hour drive is the maximum amount of time you should ideally want between you.
When your team is splintered, it makes it more difficult for investors to want to invest in your startup.  Half of their investment is based on the team. The other half is based on your startup and its traction.
Even if you aren't looking for investment, having a geographically close team will be beneficial.
You and your co-founders can then attend nearby events together, present at nearby events easily, have real in-person meetings, and learn more about each other.
Skills
Co-founders should complement your skill sets by covering the gaps of what you don't have skills in.
The startup titans say that the best practice is to find people who are as smart as or smarter than yourself.
As I mentioned earlier, passion + skills play a role in hiring, but they can also be highly intelligent, yet less skilled in areas. And they will definitely improve.
Surrounding yourself with these types of individuals will yield high dividends for your startup, your personal development, and professional development.
However, intelligence is not the only litmus test that a potential partner should be judged on.
It's best to find people that have as close to five years of experience or more in their discipline.
Five years is the magic number because it's said that about 10,000 hours of work is needed to gain mastery in a subject.  Each year has 2080 work hours (52 weeks x 40 hours) and when you multiply that by 5, you have 10,500 hours.
Some people are quick learners and they can excel in a role with two or three years of experience. Don't count them out.
Value Systems of Potential Co-Founders
You want to be very selective when bringing on a co-founder.  It's like a marriage and has legally binding implications as well. And so it makes sense that you want to bring somebody on board who has a good value system.
So many startups fail because of issues with business partners. I've been in these situations before and you do not want your startup failing because of bad co-founders.
You will want to vet that person thoroughly so you can avoid the same mistake that I have in the past.
And, you want that person to align with the core values that you want to set for your company culture or startup culture.
From the get-go, as a founder, you should create a value-system for your startup and how it works. Figure out what type of company you want to have in terms of company culture.
To learn about the value systems that are best for startup teams and co-founders, check out our article How Startup Culture Can Make or Break Your Success. You'll get an in-depth look at the things you need to look for and the startup culture you need to create and build.
Ask co-founder candidates what values they have in regards to:
Their work ethic
How they communicate
What their best practices and processes are
Their productivity and time-management
Honesty
Transparency
Goal setting
Deadline setting
Working under pressure
How much time can they commit per week?  How will they allocate their time spent?
What do they eat? (junk food vs clean, whole food). You can tell a lot about people by how they eat.
How often they exercise (steady exercise increases productivity, mood, and cognitive function)
Learning More about Your Potential Co-Founder & Their Background
It's important for you to get to know the person you're considering on a human level.
Learn about their interests, motivations, experiences, marital status, living situation, political affiliation, and find out if they are financially secure (bad financial situations can make or break it).
Find out what makes them tick because you should be prepared to be dedicated to your startup for up to ten years and perhaps longer.
That means a lot of time will be spent with your business partner(s).
Ideally, you will want to have some common interests with your business partner.  Having something else to bond over beside work is nice to have, but not necessary.
It's necessary to hustle together, but you need a little downtime too.
Do you know that saying, "all work and no play makes for a very dull day?"
Well, one of the top 20 reasons for startup failure is burnout. So make sure that you and your future business partner can recognize when it's time to stop working and time to start relaxing.
Even if you and your co-founder go watch a movie together, it will help you to unwind and give you a little something to bond over.
What to Message Your Top Picks for Potential Co-Founders
Write some drafts about what you want your message to look like first.
A successful message I've used to generate discussions with potential co-founders looked like the following script:
Hi Matthew,
Your work history and profile is impressive. One of the things that really stood out to me was your work at _______ because you were able to do _______.
The reason I'm contacting you is that I'm looking for a person with the same skill sets you have, to join as a co-founder for my growing startup, __________.
My startup's mission is to ___________________________________. I plan to make money with it by doing ___________ and __________.
I'm looking for someone that can dedicate X hours per week and I'm offering ____% in vested equity [plus revenue sharing].
Based on your skills and profile, I think you could be a good fit but I'd like to explore this great opportunity with you to see if we are indeed a good fit for each other.
Are you interested in exploring the opportunity with me? If not, do you know anyone that might be interested?
Kindly let me know at your earliest convenience. Thanks.
Best regards,
Carl
Share Your Vision
Share your vision of the company, how you want to run it, and what your roadmap will look like.
Be honest with what you're looking to do, such as crowdfunding, equity crowdfunding, getting angel investment, venture capital investment, applying to startup accelerators, bootstrap, get a bank loan, etc.
Tell your potential co-founder how much equity you want to reserve for investment.
Let them know if you're looking for other co-founders to fill different positions.
If you are, share with them your plan of how the equity pool will be divided because they'll want to know.
How to Minimize the Risk of Choosing the Wrong Person
You can always minimize the risk by making new co-founders sign a 2-year vesting agreement with six to twelve-month cliff (one-year is better).
Vesting allocates their equity to them on each quarter over a span of two to four years. This way, if they leave before their vesting is finished, they keep what they earned and leave the rest to your startup.
The cliff is like an insurance plan because if the new co-founder doesn't work out within the year (or however long you choose the cliff to be) and they leave or you have to fire them, your startup won't lose any equity from that person leaving.
Equity matters even more if you're planning on raising money for your startup, and it's important to communicate that to your co-founder candidates.
It's possible to raise money with VC's as a solo-founder, but it doesn't happen nearly as often as it does with teams with good co-founders. Investors like to invest in teams that will succeed.
So if you want to build a great team and not get destroyed by losing a teammate, make sure that you build in a vesting schedule with a cliff for each co-founder.
Tips on Reaching an Agreement
Once you and your potential co-founder have gone through the process and decided you both want to work together, it's time to set clear expectations.
The expectations should be specifically expressed in a partnership agreement with the amount of equity that will be split up.  Usually, it's best to play it safe by putting your new partner on a vesting schedule that gives your new co-founder equity over each financial quarter.
The amount of time spent on your startup each week and by each individual should be clearly expressed, as well.
If you decide to split the equity 50/50, then you must create a framework of how disagreements will be handled and resolved.  Usually, it's the CEO that has final say.  Even if it's not a 50/50 split, it's a good idea to figure that framework out and communicate that in writing to your new co-founder.
Non-disclosure agreements are mainly a thing of the past for most founders seeking co-founders, but there are some instances where it is still appropriate.
Most people are not looking to steal others' ideas. They're focused on their own ideas too much or joining a team that is working on a great idea.
However, you can issue a non-compete agreement to your new co-founder if it makes sense for you.
Conclusion
TLDR: You can find co-founders via LinkedIn, CoFoundersLab, Meetups, Facebook groups, universities, Y-combinator, Starthawk, and FoundersNation.
If you dedicate 1 hour a day to prospecting, you should be able to find someone within a couple of months of steady effort. This will keep you pretty busy on your search for a co-founder, but it will yield results.